As a person in Pakistan would say "gaarion ki qeematain aasmaanon sae baatian kar rae hain", purchasing a decent car has become an extreme financial burden. So here is a list of the top used cars we would recommend you to buy if your budget is 1 million PKR.
1) Mehran 1989–2019
AKA "BOSS"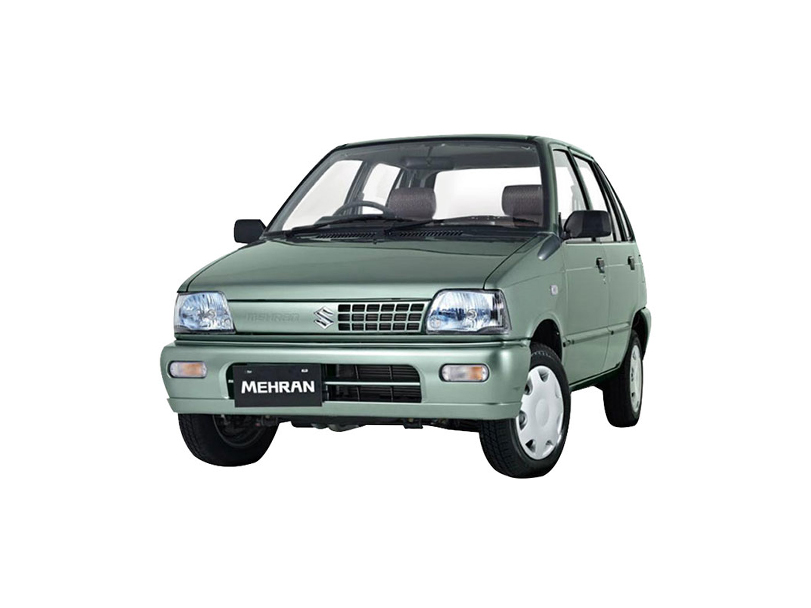 Boss was introduced in the Pakistani automotive market in 1989 as a successor to Suzuki FX and initially sold at PKR 90,000. All the models up till 2013 were sold with a F8B 796cc engine along the conventional carburetor; later in 2013 onward models fuel injectors were installed. It has been an all-time favorite of Pakistanis because of being budget friendly, its low maintenance cost, and mileage of 13–14 km/liter. Consequently, Boss has always had a high resale value as well as high demand which is one reason why we Pakistanis are willing to purchase it's 2019 model in PKR 1 million and above to date.
Boss tops Okay Ker's list of best budget cars under 1 million because of the following reasons:
i- Its mileage of 14–15 km/liter.
ii- Easily available parts in the market
iii- Spare parts are cheap
iv- Incredible resale value
2) Cultus 1983–2016
Initially Cultus was sold under the name of Suzuki Swift when it was first introduced in 1983 with a 993cc three-cylinder engine. Later in 1986 it was sold under the name of Khyber in Pakistan and from 2000 to 2016 the second-generation cultus was introduced which comes with a 1.0-liter 999cc engine along with a 5-speed manual gearbox. The 2000s model easily provides a mileage of 14 km/liter and 11km/liter. The mileage mentioned is for EFI and Non-EFI engines respectively.
Cultus is available in three different variants like VX, VXR, and VXL. VX variants used to have black bumpers whereas VXR and VXL came with body-colored bumpers, the only difference being VXL had body-colored side-mirrors.
3) City 2003–2008
AKA CHUHA CITY
If you're looking for a more spacious car with more leg room to accommodate more passengers then we suggest you can check out Honda City EXI and Honda City i-DSI (2003–2008) which can easily be bought within 8 to 10 lacs.
City i-DSI comes with a 1493 cc 4-cylinder engine 5-speed manual transmission as well automatic transmission and provides with a mileage of 10 to 11 km/liter. Whereas, City EXI comes with a 1343 cc 4-cylinder engine and 8 to 9km/liter mileage.
4) Alto 2000–2012
If you are not satisfied with the comfort and features Boss offers then you can opt for Suzuki Alto which is equipped with a carbureted F10 AI4 970cc engine. Its production in Pakistan was started back in early 2000s. The only area where Alto beats Boss is when it comes to the air conditioning and interior comfort and appeal. It easily provides a mileage of 11–13 km/liter and parts are also readily available in the market.
5) Coure 2000–2012
Coure entered the Pakistani automobile market in 2000s and its production did not end until 2012. After Boss if there is any other car as successful as Boss it is Coure because of the superb mileage the car provides of around 13–15 km/liter provided it has been maintained thoroughly. It comes with a 847cc three-cylinder engine along with a 5-speed manual transmission as well as a three-speed CVT. Also, its parts are readily available in the market at very economical rates. This is why it comes second in our list.
6) Esse 2005–2011
You're on the lookout for a compact small sized car then Daihatsu Esse is a great option. Esse came into the Pakistani market back in 2005 and was imported from japan till 2013. It comes with a 660cc engine, automatic transmission and provides a mileage of 14–17 km/liter within city and up to 18–20 km/liter on long routes
7) Corolla 1994–2000
AKA INDUS
Another sedan which is a part of our list is none other than Corolla Indus XE 1998. Indus XE comes equipped with a carbureted 1298cc engine. On top of this it provides a mileage of around 15km/liter easily. You can easily buy it within the range of 8 to 9.5 lacs in mint condition. Every other car enthusiast who has driven an Indus claims there's no other Corolla which can be compared with that of the Indus.
8) Liana 2006–2014
The last sedan that's a part of our list is Liana. Equipped with a 1328cc EFI four-cylinder engine. It is another spacious car with sufficient legroom if you're looking for a family car. The plus point being it comes with airbags and provides a mileage of around 13 km/liter.
Once you decide upon which car best suits you, don't forget to get your car fully inspected by Gurus at Okay Ker, after which you'll be provided with an inspection report covering each important detail of your concern.